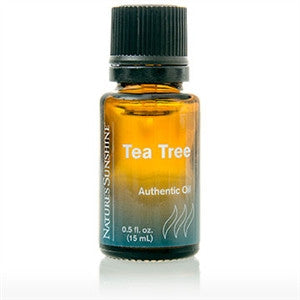 TEA TREE OIL (0.5 oz) Nature's Sunshine
$32.95
INGREDIENTS: 100% Pure Melaleuca alternifolia leaf oil. Product of Australia. Steam distilled.
 FOR TOPICAL AND AROMATIC USE ONLY
 For recommended use visit: www.naturessunshine.com
 Caution: Not for use during pregnancy, near eyes or mucous membranes. Dilute with carrier oil before applying topically. Keep out of reach of children. For best results, store in a cool, dark place.
Benefits:
Restore and Sustain

Known as "the wonder from Down Under", Tea Tree oil comes from the melaleuca tree, which is native to Australia. Tea Tree's sharp, clean smell makes it a popular ingredient in shampoos, lotions and cleansers.
Ingredients:
100% pure Melaleuca alternifolia leaf oil.
Recommended Use:
Essential oils may be used aromatically or topically in a variety of ways including diffusers, massage, compresses, baths, scrubs, lotions and sprays. Essential oils should be diluted with Nature's Sunshine Massage Oil or Carrier Oil before applying topically.