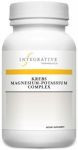 KREBS MAGNESIUM-POTASSIUM COMPLEX (120 tabs) Integrative Therapeutics
$17.50
Maintain Optimal Heart Health with Krebs Magnesium Potassium Complex
Magnesium and potassium are two of the most important minerals found in your heart. The help produce healthy levels of energy, maintain electrical charges in your cells, and are also responsible for contributing to muscle contraction in your heart.
Krebs Magnesium Potassium Complex from Integrative Therapeutics provides healthy doses of extra-absorbable magnesium and potassium bounce to Krebs cycle intermediates to support optimal heart health.
This supplement is made without any of the following:
Artificial colors, flavors, or preservatives
Sugar or salt
Yeast or wheat
Gluten or corn
Dairy products
Ingredients of animal origin
Make sure your heart has the minerals it needs to stay healthy and function correctly. When you choose Krebs Magnesium Potassium Chelates from Integrative Therapeutics, you're choosing to give your body magnesium and potassium that is easily and readily absorbed to support optimal heart health.
Give it a try today!
Supplement Facts
2 tablets contain:
Calories 5
Total Carbohydrates 2g
---Dietary Fiber <1g
Magnesium 250mg (63%)
---(from fully reacted magnesium citrate and malate chelates)
Potassium Complex 100mg (3%)
---(from potassium citrate and potassium malate)
Other Ingredients: cellulose, modified cellulose, stearic acid, modified cellulose gum, magnesium stearate, glycerin, silicon dioxide.
Contains NO: sugar, salt, yeast, wheat, gluten, corn, dairy products, soy, ingredients of animal origin, artificial coloring or preservatives. All colors used are from natural sources.
Recommended Use:
Adults: Take 2 tablets daily or as recommended by a healthcare professional.
Warnings:
If you are pregnant, nursing, or taking medications, consult your healthcare professional before using this product. Keep out of the reach of children.