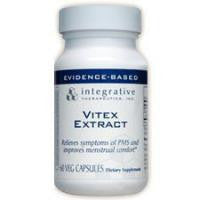 VITEX EXTRACT (60 veggie capsules)
$27.00
Natural Support for PMS
Vitex Extract from Integrative Therapeutics is designed to help support women experiencing premenstrual and menstrual cycle symptoms.
This formula may help with such premenstrual and menstrual cycle symptoms as
Mood swings
Anxiety
Food craving
Hyperhydration
Chaste tree berry may help with symptoms of PMS by regulating hormones. In low doses, it may play a role in increasing progesterone and prolactin levels and reducing estrogen levels. In higher does, it may reduce prolactin levels.
Mediterranean Native
Chaste tree, or Vitex agnus-castus, is native to the Mediterranean and Central Asia regions and is part of the verbena family.
It blooms in the summer and produces small, dark brown or black berries with a spicy taste and aroma.
Why Use this Supplement
During PMS, comfort is critical. Vitex Extract is standardized for the berry's best compound to help provide additional support during premenstrual and menstrual cycles.
Suggested Use
To use as a dietary supplement, adults can take one capsule twice daily.
Supplement Facts
1 veg capsule contains:
Chaste Tree (Vitex agnus-castus) Berry Extract 225mg
Other Ingredients: vegetable capsule (modified cellulose), cellulose, magnesium stearate, and silicon dioxide.
Contains NO: sugar, salt, yeast, wheat, gluten, corn, soy, dairy products, artificial coloring, artificial flavoring, preservatives or ingredients of animal origin. This product contains natural ingredients; color variations are normal.
Recommended Use:
Adults: Take 1 capsule twice daily.
Warning:
If pregnant, nursing, or taking prescription drugs, consult your healthcare practitioner prior to use. Keep out of the reach of children.