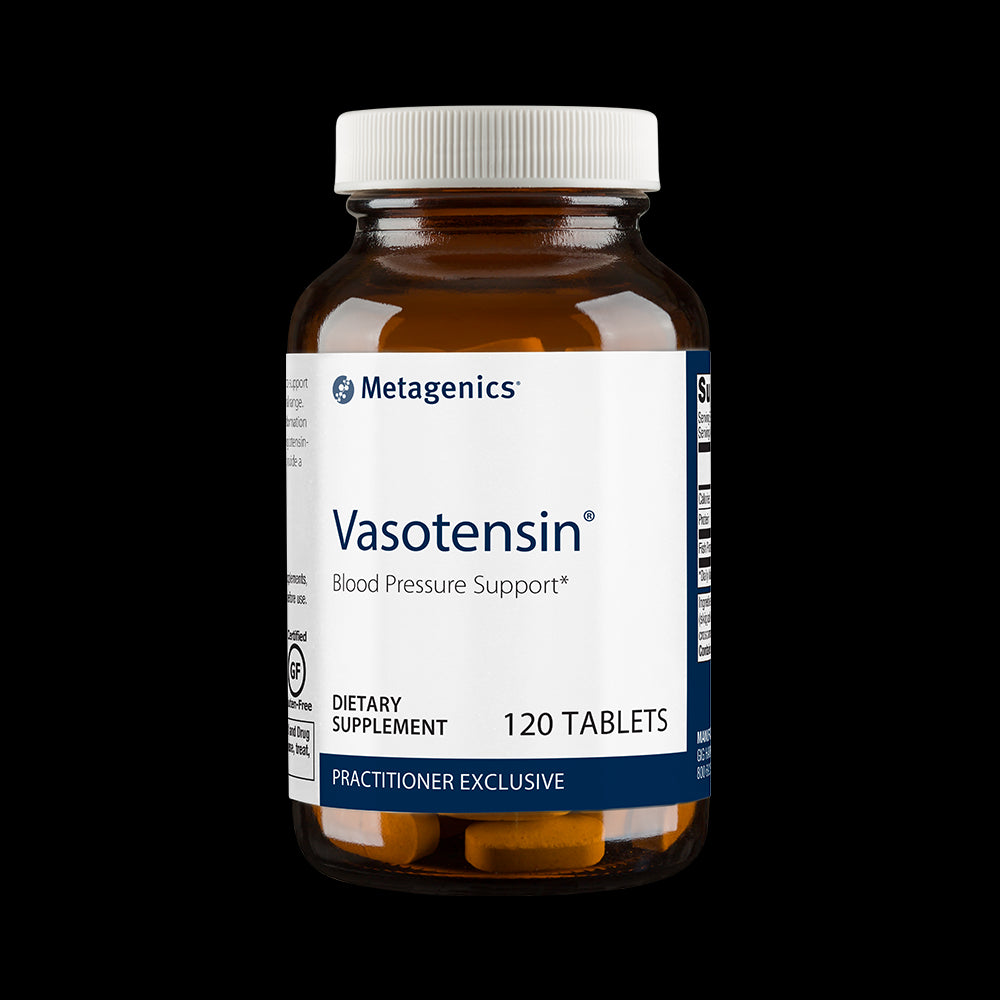 VASOTENSIN (120 tablets)
$71.25
Metagenics' Vasotensin provides peptides from bonito fish in order to support healthy blood pressure levels already within the normal range. Peptides are molecules formed by linking multiple amino acids; when the number of amino acids involved is less than 50, the molecules are labeled peptides. (By contrast, molecules containing over amino acids are called proteins.)
Peptides play crucial roles in the fundamental physiological and biochemical functions of life. Over the past few decades, it has continued to be a growing area of scientific research. Peptides are found in every living cell and participate in activities within enzymes, hormones, antibiotics, receptors, and more.
Bonito peptides in particular have been shown to slow the formation of the potent vasoconstrictor angiotensin II, an agent that causes your blood vessels to narrow; this may lead to serious side effects, including hypertension. Peptides derived from bonito interact with the angiotensin-converting enzyme to lower your risk.
Vasotensin by Metagenics provides pure, certified peptides isolated from a fish known as bonito (Sarda orientalis). It's traditionally consumed in Japan to support healthy vascular function for optimal blood flow and healthy blood pressure levels. The peptides are independently tested for heavy metals, pesticides, and other contaminants. Vasotensin is also packaged to neutralize the product's natural fish smell.
Vasotensin's fast-acting formula is designed to provide a clinically effective dose in just two tablets, taken twice daily. Metagenics also ensures product viability, which includes sufficient presence of LKPNM: a peptide that has been found to produce an eight-fold increase in internal activity when hydrolyzed by the angiotensin-converting enzyme, compared to the naturally occurring process. Testing for LKPNM guarantees optimal efficacy to help maintain blood pressure levels already within the normal range.
Bonito peptide supplements have never been associated with serious adverse side effects, making it safe to use as a complement to other over-the-counter or prescription heart support programs. If you decide to stop taking Vasotensin for whatever reason, no rebound (reverse) effect has been observed in human clinical trials when supplementation is discontinued.
Metagenics creates innovative supplements that help people overcome the symptoms of chronic diseases and maintain their health. Quality and research is paramount, and has been since the company was founded in 1983. All active ingredients in Metagenics products have been demonstrated effective by third-party scientists. Its formulas have been imitated but never duplicated.
These statements have not been evaluated by the Food and Drug Administration (FDA). These products are not meant to diagnose, treat or cure any disease or medical condition. Please consult your doctor before starting any exercise or nutritional supplement program or before using these or any product during pregnancy or if you have a serious medical condition.
TWO TABLETS SUPPLY: 

Calories 0 

Protein Less than 1 gram 

Fish Protein Powder (Sarda orientalis†) 750 mg 

Other Ingredients: Microcrystalline cellulose, cellulose, stearic acid, silica, croscarmellose sodium, and magnesium stearate. Contains: fish (bonito). 


Allergy Information - Product Details
No Artificial Colors
Corn Free
Dairy Free
Egg Free
No Artificial Flavors
Gluten Free
Nuts Free
Soy Free
Wheat Free