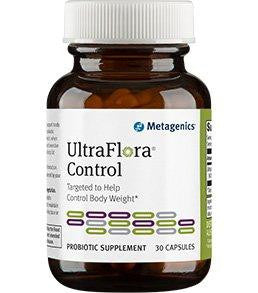 ULTRA FLORA CONTROL (30 Caps) Metagenics
$45.50
UltraFlora Control 30 caps | Metagenics
Probiotic Supplement
UltraFlora Control is designed to help support body weight regulation by delivering targeted probiotic support as Bifidobacterium lactis B-420™ which has been shown to help control body fat and body weight.*
UltraFlora Control 30 caps | Metagenics 
Directions: Take one capsule per day or as directed by your healthcare practitioner as part of a healthy diet and exercise regimen.
Supplement Facts
Serving Size 1 Capsule†
Servings Per Container 30
Amount Per Serving
Bifidobacterium lactis B420 Strain 10 billion live organisms††*
Ingredients: Probiotic blend (Microcrystalline cellulose, Bifidobacterium lactis B420, magnesium stearate, and silica) and capsule (hydroxypropylmethylcellulose).
This product is non-GMO, gluten free, and vegetarian. 
Storage: Keep refrigerated