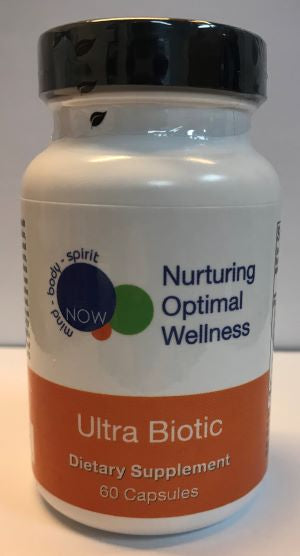 ULTRA BIOTIC (60 capsules) Nurturing Optimal Wellness
$66.60
No Fridge Necessary
If you take a probiotic for digestive support, you're probably familiar with one of the biggest inconveniences...You can't take it with you because it needs to stay refrigerated.
Ultra Biotic takes care of that problem for you. This supplement does not require refrigeration. So you can travel with it, keeping gastrointestinal support within reach wherever you go.
Product Details:
Probiotic for support of healthy digestion
Special formula requires no refrigeration
Manufactured in smaller batches to ensure freshness and potency
Includes Saccharomyces boulardii for optimal digestive health
Probiotics can help your body better absorb the vitamins, mineral and amino acids it needs - keeping you healthy.
They also work to put a stop to potentially harmful bacteria and yeast in your digestive system. That may strengthen your immune system. It's believe Saccharomyces boulardii have the potential to remove pathogens from the gut.
If you deal with uncomfortable gas, bloating or diarrhea - a probiotic like Ultra Biotic may be able to change that. It may even provide relief for people who are lactose intolerant.
Supplement Facts:
Each capsule contains:
Proprietary Blend (20 billion CFU) of:
Lactobacillus acidopholus
Lactobacillus paracasei
Bifodobacterium Bifidum
Bifidobacterium lactis
Lactobacillus plantarum
Lactobacillus rhamnosis
Saccharomyces boulardi 2 billion CFU
Other Ingredients: Natural vegetable capsules. This product may contain one or more of the following: Ascorbyl Palmitate, Magnesium Stearate, Microcrystalline Cellulose, and Silicon Dioxide.
Contains NO: gluten, corn, artificial colors or flavors.
Recommended Use:
Adults: As a dietary supplement, take 1 capsule per day or as recommended by your healthcare professional.
Warning:
If you are pregnant or nursing, consult with a healthcare professional before use.
*These statements have not been evaluated by the Food and Drug Administration. These products are not intended to diagnose, treat, cure or prevent any diseases.