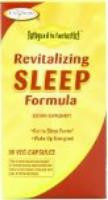 REVITALIZING SLEEP FORMULA (90 capsules)
$40.00
Fatigued to Fantastic! Revitalizing Sleep Formula (90ct)
(Vegetarian) Helps with occasional difficulty sleeping1
Product Brand: Enzymatic Therapy, Inc.
Product Quantity: 90 UltraCaps
Recommended Daily Dose: One UltraCap 30-60 minutes before bedtime. If additional support is desired, take up to four UltraCaps or as directed by a healthcare practitioner. This formula can also be used during the day to help calm anxiety. A maximum of 8 capsules in a 24 hour period may be taken. Note: There is a small subset of people who become energized by the Valerian in the sleep formula.1
Benefits
Daytime alertness and daily rejuvenation depends on good sleep quality. Quality nighttime sleep is crucial for daytime energy, and gives your mind and body a chance to relax and rebuild.
The ingredients in Fatigued to Fantastic! Revitalizing Sleep Formula help you fall asleep faster and maintain a healthy sleep cycle — without feeling groggy the next day.It also helps support muscle recuperation from normal overuse, so that you experience less fatigue upon waking.1
For optimum results, use in combination with End Fatigue Daily Energy Enfusion andDaily Energy Complex.1
Amount per Serving (1 UltraCap)
Item

Amount/Serving

%DV

---

Valerian (Valeriana officinalis)

200 mg

*

Root Extract standardized to contain a minimum of 0.8% valerenic acids

---

Passionflower (Passiflora incarnata)

90 mg

*

Leaf and Flower Extract 4:1

---

L-Theanine (Suntheanine® brand)

50 mg

*

---

Hops (Humulus lupulus)

30 mg

*

Flower Extract 6.6:1

---

Wild Lettuce (Lactuca virosa)

18 mg

*

Leaf Extract

---

Jamaica Dogwood (Piscidia piscipula)

12 mg

*

Root Extract

---

Wild Lettuce (Lactuca virosa)

10 mg

*

Leaf

---

* Daily Value (DV) not established.
Other Ingredients: natural polysaccharide capsule, magnesium stearate, and silicon dioxide.
Contains No: sugar, salt, yeast, wheat, gluten, corn, soy, dairy products, artificial coloring, artificial flavoring or preservatives. This product contains natural ingredients; color variations are normal.