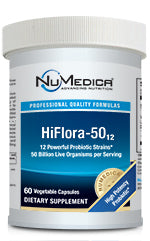 HIFLORA-50 (60 caps) Nu Medica
$59.95
Numedica HiFlora-5012 powerful probiotic blend containing 12 synergistically balanced strains to support the body's own microbiome function. These probiotic strains support immune function, healthy body composition and helping to establish a healthy microbial balance by competing with harmful bacteria.
Recommended Use: Take 2 capsules, once per day or as directed by a healthcare professional.
Numedica HiFlora-5012 Facts:
2 capsules contain:
High Potency Probiotic Blend 50 Billion CFU:
Lactobacillus acidophilus La-14
Bifidobacterium animalis lactis BS-01
Lactobacillus bulgaris Lb-64
Lactobacillus rhamnosus Lr-32
Bifidobacterium longum Bl-05
Lactobacillus paracasei Lpc-37
Bifidobacterium lactis (formerly B. infantis) VK2
Lactobacillus casei Lc-11
Lactobacillus salivarius Ls-33
Lactobacillus plantarum Lp-115
Streptococcus thermophilus St-21
Bifidobacterium lactis Bl-04
Other Ingredients: Hydroxypropyl methylcellulose (vegetable capsule), beet root fiber, medium-chain triglycerides (MCTs), silica, pectin, water.