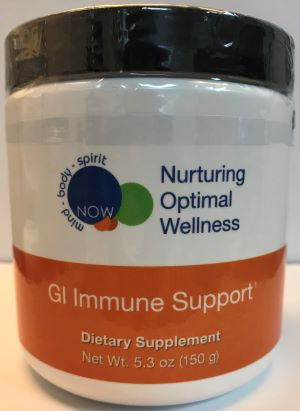 GI IMMUNE SUPPORT (5.3 oz.) Nurturing Optimal Wellness
$124.30
CLINICAL APPLICATIONS
Provides Concentrated Immunoglobulins to Enhance Mucosal Immunity
Helps Maintain Microbial Balance
Supports GI Barrier Health and Integrity
Helps Maintain Normal Inflammatory Balance
GI Immune Support is the only purified, dairy-free source of immunoglobulin G (IgG) available as a dietary supplement. Serum-derived bovine immunoglobulins (SBI) provide the highest IgG concentration available for GI and immune challenges where allergens are a significant concern. Pure IgG helps to maintain a healthy intestinal immune system by binding a broad range of microbes and toxins within the gut lumen. GI Immune Support provides 1,200 mg IgG in a one-scoop serving.
Directions
1 scoop (2.5 grams) in 4 ounces of water or the beverage of your choice 2 times daily or as recommended by your health care professional.
Does Not Contain
Gluten, corn, yeast, artificial colors and flavors.
Cautions
If you are pregnant of nursing, consult your health care professional before taking this product.