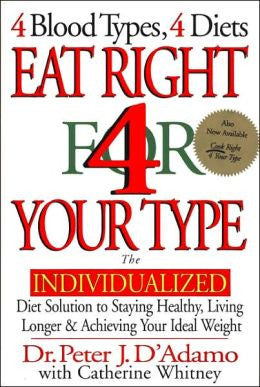 Eat Right For Your Type - 4 Blood Types, 4 Diets
$24.95
About this product
Eat right 4 your type, the international bestseller by Dr. Peter D'Adamo, continues to change the way we eat and live. Dr. D'Adamo's groundbreaking medical and genetic research reveals that blood type is the key to your biochemical uniqueness. When you eat right for your type, your body responds the way nature intended.
With more than 4 million copies in print, translated into 60 languages, and voted one of the"Ten Most Influential Health Books of All Time, "eat right for your type has made a lasting mark in the field of diet and nutrition, with a simple, effective formula: 4 blood types; 4 individual diet plans.
Blood Type O thrives on a lean, high protein diet.Blood Type A thrives on a primarily vegetarian diet.Blood Type B thrives on a mixed diet of meat, fish and dairy.Blood Type AB thrives on a modified vegetarian diet.
Eat right 4 your type has won praise from leaders in nutritional and genetic science, as well as popular celebrities, including Jennifer Lopez, Cheryl Tiegs, Hugh Grant, Elizabeth Hurley and Ellen DeGeneres. Millions of followers confirm the reason for its success: It works.
Here's what people have said about Eat Right 4 Your Type:
"I strongly recommend this book to anyone who is trying to lose weight, reduce stress, and increase their overall health. I have lost weight, but more than that, I am healthier than I've ever been in my life. I don't believe Dr. D'Adamo would have done such strenuous research, nor would people be doing so well on the diet, if it was just another way of telling people to eat right and exercise."
"This book was very informative. It is easy to get through quickly with lots of great tables and menus. Would recommend to anyone looking to try a new or different approach to dieting."
"I found this book to be very useful. Other family members have also. I have been following the bloodtype diet since I received the book and feel so much better!"

The statements on this site have not been evaluated by the FDA. These products are not intended to diagnose, treat, cure, or prevent any disease.