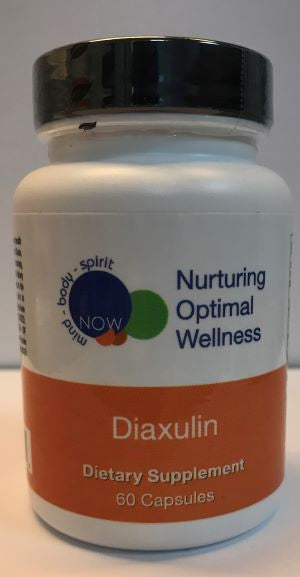 DIAXULIN (60 capsules) Nurturing Optimal Wellness
$51.30
Diaxulin is a leading-edge supplement combining well-studied natural ingredients and appropriate dosages. The ingredients included in Diaxulin are of the utmost quality, and formulations are made with safety in mind.
Why These Natural Ingredients?
Biotin
Shown to support glycolysis in the liver and pancreas by its promotion of the enzyme, glucokinase. Biotin is a key player for persons needing support for glucose uptake.
Chromium
Chromium facilitates the uptake of glucose into cells, working naturally with the body's own insulin. Most multivitamins provide 200 mcg of chromium, but additional chromium may be needed for those wanting to maintain healthy blood sugar levels.
Alpha Lipoic Acid
Lipoic acid is one of the most beneficial nutrients for those seeking to achieve optimal range blood sugars. Lipoic Acid has antioxidant activity that maintains microcirculation and has been used successfully for over 30 years in Germany.
Cinnamon (Cinnulin)
Research has found cinnamon is beneficial in decreasing fasting glucose levels and has beneficial effects on cardiovascular health. Components known as Type A Polymers have been found to give cinnamon its beneficial properties.
Vanadyl Sulfate
Functioning much like chromium, research has revealed that vanadyl sulfate acts to help cells activate transport proteins for glucose uptake. Scientific quantities of vanadyl sulfate have shown significant benefits for individuals in controlled studies. In some people, these benefits were sustained for as long as 2 weeks after discontinuation of vanadyl sulfate.
Suggested Use
1 capsule two times per day or as recommended by your health care professional.
Other Ingredients
Natural Vegetable Capsules. This product may contain one or more of the following: Calcium Silicate, Magnesium Stearate, Microcrystalline Cellulose, Silicon Dioxide, and Stearic Acid.
Formulated to be free of allergens derived from: Gluten, corn, yeast, artificial colors and flavors.
Warnings
If you are pregnant or nursing, consult your physician before taking this product. As with all dietary supplements, some individuals my not tolerate or may be allergic to the ingredients used. Please read the ingredient panel carefully prior to ingestion. Cease taking this product and consult your physician if you have negative reactions upon ingestion. Keep container tightly closed. Store at room temperature. Keep out of reach of children. This product was sealed for your protection. Do not use if outer logoed neck seal or inner-seal is missing or damaged.