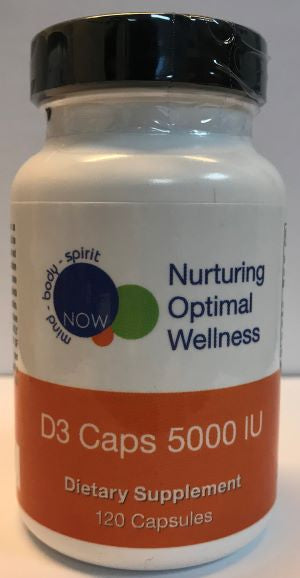 D3 CAPS 5000 IU (120 capsules) Nurturing Optimal Wellness
$27.70
Vitamin D plays a major role in helping your bones stay healthy. Without it, you may end up suffering from conditions that negatively impact the health and strength of your bones and muscles. It also plays an important role in maintaining cardiovascular function, immune function and promoting an overall sense of well-being.
Your body needs vitamin D, phosphorus, and calcium in order to keep your bones strong. Since vitamin D helps you absorb phosphorus and calcium, it's essential that you get sufficient amounts of it. Although your body is able to produce vitamin D when you're out in the sun for as little as 10 minutes a day, certain factors—like wearing sunscreen, northern climates, or busy indoor work schedules—can prevent this from happening. Obviously, you don't want to risk sunburn, but there are fortunately other ways.
Other sources of vitamin D are found in your diet. Dietary sources of the vitamin include eggs, fish, and fortified milk; however, many find it difficult to eat enough. Relying on a vitamin D supplement like D3 Caps 5000 IU capsules can help you boost your levels of this essential nutrient.
Vitamin D supplements contain either vitamin D2 (ergocalciferol) or vitamin D3 (cholecalciferol). Plants make vitamin D2, and while humans and animals naturally produce D3. We use vitamin D3 in our supplement to ensure the highest level of bioavailability—meaning that your body is able to absorb it most effectively. By taking a daily dose of vitamin D, your body will be getting enough of this vital nutrient for bone and tooth maintenance.
One 120-capsule bottle of D3 5000 IU provides enough capsules to last you for about four months at the recommended dosage of one capsule per day. It's recommended but not required that you take this supplement with meals.
These statements have not been evaluated by the Food and Drug Administration (FDA). These products are not meant to diagnose, treat or cure any disease or medical condition. Please consult your doctor before starting any exercise or nutritional supplement program or before using these or any product during pregnancy or if you have a serious medical condition.