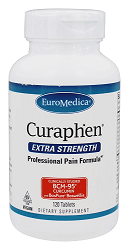 CURAPHEN EXTRA STRENGTH (120 tablets) Euromedica
$83.95
Curaphen contains a unique curcumin with turmeric essential oil containing ar-turmerone that is significantly better absorbed than both plain curcumin and turmeric products.
This patented curcumin has been proven in published clinical studies to provide consistent and long-lasting effects. The impact of a uniquely standardized boswellia is enhanced by reducing beta-boswellic acid and providing higher levels of AKBA. DLPA supports healthy activity of endorphins and enkephalins, and nattokinase helps healthy circulation—an important feature for proper nutrient delivery and effectiveness.*
Recommendations: 1 capsule three times daily, or as directed by your healthcare practitioner.
If pregnant or nursing, consult a healthcare practitioner before using. 
 Ingredients:

Serving Size: 1 Capsule
Servings Per Container: 21 or 60 or 120

Amount/Serving

Daily Value

Proprietary Complex

727 mg

**

DLPA (DL-phenylalanine), Boswellia (Boswellia serrata) Gum Resin Extract (BOS-10™/BosPure®) standardized to contain ≥ 70% Total Organic and Boswellic Acids with AKBA ≥ 10%, with ≤ 5% beta-boswellic acids, Curcumin (Curcuma longa) Rhizome Extract (BCM-95®/Curcugreen®) enhanced with turmeric essential oil and standardized for curcuminoid complex (curcumin, demethoxycurcumin and bisdemethoxycurcumin), Nattokinase

** Daily Value (DV) not established
Other Ingredients: hydroxypropyl methylcellulose (vegetable cellulose capsules), vegetable source magnesium stearate, silica. Contains Soy (less than 5 parts per million)

All ingredients established in human studies for safety and effectiveness.
Does not interfere with stomach, liver or kidney function.