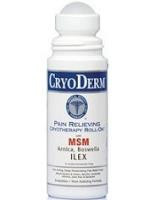 CRYODERM PAIN RELIEVING ROLL - (3oz.)
$16.00
Use CryoDerm between office visits to provide pain relief from:

Back, shoulder and neck pain
Muscle strains, sprains, spasms, sore muscles and muscle cramps
Foot, heal and ankle pain, leg cramps, neuropathy and plantar fasciitis
Arthritis, bursitis and tendinitis
Painful elbow, wrist, hip, knee and ankle joints

Arnica: Research studies at The University Of California San Francisco Medical Center showed topical applications of Arnica to be effective in reducing bruising, swelling, edema, hematoma and contusions.
Boswella: Has Anti-inflammatory and Anti-Arthritic actions in acute and chronic models of inflammation. Boswella reduces swelling, increasing mobility, thereby effectively reducing pain.
Eucalyptus: Is a Pain Reliever with warming properties that is also anti-bacterial in nature.
Ilex: Reduces pain, swelling and loosens stiff joints.
Menthol: Is used clinically as an anti-inflammatory and Pain Reliever. It causes a cold sensation on the skin, by activating peripheral cold receptors.
MSM: Is a naturally occurring, essential nutrient found in healthy tissue and joints. Studies at The University of Oregon Medical School reported that: "MSM has a wide range of pharmacologic actions including topical membrane penetration, anti-inflammation and local analgesia." Applied topically MSM creates a tingling sensation.
Peppermint Oil: Has anesthetic properties as well as being a vascular and lymphatic system stimulant.
Peppermint creates a burning-cold sensation.
Purified Water: Has been processed by reverse osmosis to insure that it is chemical free.
SD Alcohol 39-C: All Natural, Distilled Grain Alcohol. For External Use Only.