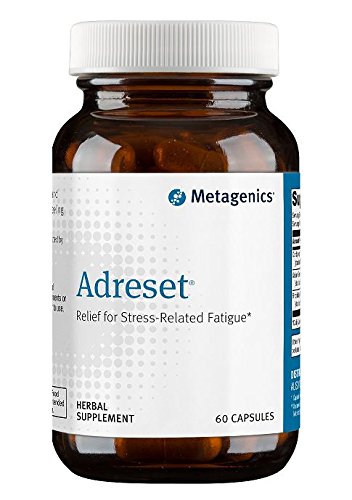 ADRESET (60 capsules)
$43.75
Relief for Stress-Related Fatigue 
Adreset Adrenal Formula by Metagenics is a natural herbal stress relief supplement featuring standardized extracts of the adaptogenic herbs ginseng, rhodiola, and cordyceps for those individuals who are stressed and tired.*
Enhances stamina and energy.
Provides exceptional support for those who are stressed and tired.
Adreset aids the body in adapting to various stressful environmental challenges and thus helps to reduce the negative effects of stress. It promotes vitality, immunity, and overall well-being, all of which are key components of a comprehensive longevity program.
The adaptogens featured in Adreset have been traditionally used to provide overall stress protection, increased energy, more restful sleep, and enhanced mental clarity and perception.
Adreset promotes balanced hypothalamic-pituitary-adrenal axis function for enhanced ability to adapt to stress.
Supplement Facts:
Each capsule contains:
Cordyceps Mycelium Extract (Paecilomyces hepiali) 400mg 
---(containing cordycepic acid and adenosine) 
Asian Ginseng Root Extract (Panax ginseng) 200mg
---[standardized to 8% (16mg) ginsenosides]
Rhodiola Root Extract (Rhodiola rosea) 50mg 
---[standardized to 1% (0.5mg) salidroside]
Other Ingredients:
 hydroxypropyl methylcellulose, microcrystalline cellulose, silica and magnesium stearate.
Contains NO:
 wheat, gluten, yeast, soy, dairy products, nuts, tree nuts, fish, crustacean shellfish, or artificial colors, sweeteners or preservatives.
Recommended Use: 
Adults: Take one capsule twice daily before early afternoon or as directed by your healthcare practitioner.
Warning: 
Do not use if pregnant or nursing. If you are taking medication or have high blood pressure, consult your physician before use. Keep out of the reach of children.

Adreset is designed to build resilience and enhance stamina in individuals who are feeling weak and fatigues due to stress.